The Capo With Lock | Omerta Smell Proof | Stash Bag | Combo Lock
In stock
The bag you've come to love just got an upgrade. Available in three colors and now complete with a TSA-approved lock, this mini-but-mighty bag can move, shake, stop, drop, and roll, all while keeping your goodies nice and secure. Trying to play it cool? The Omerta patch is removable so you can keep a low profile wherever you go.
Dimensions
6" Capo: 7" x 5.5" x 1"
7" Capo: 9" x 7" x 1"
Weight
6" Capo: 4.0 oz
7" Capo: 4.8 oz
Colors
Black, Camo, Green
Features

Fully smell-proof, carbon-filter technology
Water-resistant polyester exterior
Lightly padded, 100% cotton interior
Smell-proof, water-resistant zipper
3-digit, TSA-approved combination lock
Discreet colors
Interchangeable velcro label
Combination lock only
TSA keys not provided
Returns Policy
Dime Bags® stands behind the quality of our products, and our company philosophy is all about you. We understand that sometimes, things just don't work out. You have 30 days from the purchase date listed on your receipt to return a product. Your returned/exchanged item should be in its original packaging with all hang tags and patches attached. All products must be in new and unused condition. We also request that you ensure the bag is clean and free of personal articles before mailing it in. Please use our Returns Center located on our footer to initiate your return. Please contact us at +1-888-520-8808 or email Hi@DimeBags.com if you have any questions. Once we've received the bag and processed the return, our billing department will issue a refund or store credit to reimburse you for the bag. Any shipping charges are excluded. Please note that based on the time elapsed since the purchase, the condition of the product, and/or missing items, our Returns department will determine whether to refund the full amount you paid for the bag or to charge a 10% restocking fee. Please mail your Dime Bag® to the below address. Dime Bags® Warranty Returns 10035 Federal Dr. Colorado Springs, CO 80908.
Shipping
Packages will ship within 24-48 hours excluding weekends. Once your order is placed you will receive a confirmation message and tracking once the item ships from our facility. International shipments may take up to two weeks for delivery based on your Country and shipper. All other packages will be delivered within 4-5 business days after they are shipped.
Customer Reviews
Write a Review
Ask a Question
05/02/2022
PJ

United States
Great
It works, perfect size, & great customer service.
Hey PJ, The Capo is so wonderful! Its prefect for holding so many different things!
04/28/2022
Steven M.

United States
Omertà Smellproof
It's a nice bag I like the locking feature I can put my flower in it and not worry about anybody stealing it or using it when I'm not around.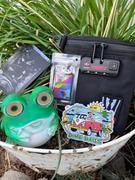 Hey Steven, The Capo is great for keeping your stash safe! That 420 patch is super sick next to that little frog!
04/24/2022
Ashley M.

United States
Phenomenal Company with Exceptional Products
Hey Dime Bag Dudes, I'd like to start by letting you know how much I absolutely love your products! I have purchased 3 different bags, and several stickers and I must say the quality of your products is incredible, but that's just the beginning, every package you receive feels so personal, you can tell that you take your time putting all of this together! I have some swag stickers on the bottom of my longboard as a courtesy of DimeBags, and I have received an extra patch with every purchase! By the way, #savethebees is such an awe-inspiring tribute to your patches with a purpose where 100% of your sales go to the dedicated organization! That's just such a beautiful contribution that I believe really speaks volumes for the kind of company you are, and what you stand for! If I could give you 10 ⭐️⭐️⭐️⭐️⭐️⭐️⭐️⭐️⭐️⭐️ then I would! Keep doing you! Have a beautiful and blessed day, Ashley M.
Hey Ashley, thank you so much for the kind review! It means so much! We love our patches with a purpose. Hope you have a wonderful day!