The bag you've come to love just got an upgrade. Available in three colors and now complete with a TSA-approved lock, this mini-but-mighty bag can move, shake, stop, drop, and roll, all while keeping your goodies nice and secure. Trying to play it cool? The Omerta patch is removable so you can keep a low profile wherever you go.
Dimensions
6" Capo: 7" x 5.5" x 1"
7" Capo: 9" x 7" x 1"
Weight
6" Capo: 4.0 oz
7" Capo: 4.8 oz
Colors
Black, Camo, Green
Features

Fully smell-proof, carbon-filter technology
Water-resistant polyester exterior
Lightly padded, 100% cotton interior
Smell-proof, water-resistant zipper
3-digit, TSA-approved combination lock
Discreet colors
Interchangeable velcro label
Combination lock only
TSA keys not provided
Customer Reviews
Write a Review
Ask a Question
05/02/2022
PJ

United States
Great
It works, perfect size, & great customer service.
Hey PJ, The Capo is so wonderful! Its prefect for holding so many different things!
04/28/2022
Steven M.

United States
Omertà Smellproof
It's a nice bag I like the locking feature I can put my flower in it and not worry about anybody stealing it or using it when I'm not around.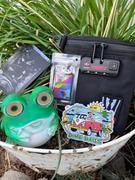 Hey Steven, The Capo is great for keeping your stash safe! That 420 patch is super sick next to that little frog!
04/24/2022
Ashley M.

United States
Phenomenal Company with Exceptional Products
Hey Dime Bag Dudes, I'd like to start by letting you know how much I absolutely love your products! I have purchased 3 different bags, and several stickers and I must say the quality of your products is incredible, but that's just the beginning, every package you receive feels so personal, you can tell that you take your time putting all of this together! I have some swag stickers on the bottom of my longboard as a courtesy of DimeBags, and I have received an extra patch with every purchase! By the way, #savethebees is such an awe-inspiring tribute to your patches with a purpose where 100% of your sales go to the dedicated organization! That's just such a beautiful contribution that I believe really speaks volumes for the kind of company you are, and what you stand for! If I could give you 10 ⭐️⭐️⭐️⭐️⭐️⭐️⭐️⭐️⭐️⭐️ then I would! Keep doing you! Have a beautiful and blessed day, Ashley M.
Hey Ashley, thank you so much for the kind review! It means so much! We love our patches with a purpose. Hope you have a wonderful day!