The name says it all: this pouch is loaded with features. Made from our durable Hempster material and featuring a hidden rolling tray and built-in, smell-proof Omerta pocket, the All-in-One was made with the everyday smoker in mind.
*Please note since our 5-inch pouch is so compact the whole thing is smell proof and it does not come with additional pockets.
Features

Durable Hempster exterior
Heavily padded, shed-proof velour interior
Heavy-duty zipper
19 eye-catching colors
1 smell-proof, carbon-lined Omerta pocket
1 hidden rolling tray
Internal velcro strip and key loop (7-, 8-, and 10-inch only)
Interchangeable velcro label
5" All-in-One:
Dimensions
5" x 3" x 1"
Weight
2.4 oz
2 Compartments

1 main, smell-proof zippered compartment
1 external slip pocket
7" All-in-One:
Dimensions
7" x 4" x 2"
Weight
4.0 oz
3 Compartments

1 main zippered compartmen
1 internal, smell-proof zippered pocket
1 external flap pocket
8" All-in-One:
Dimensions
8" x 5.5" x 2"
Weight
6.4 oz
5 Compartments

1 main zippered compartment
1 internal, smell-proof zippered pocket
2 internal, open padded pockets
1 external flap pocket
10" All in One:
Dimensions
10" x 7" x 2"
Weight
9.6 oz
5 Compartments

1 main zippered compartment
1 internal, smell-proof zippered pocket
2 internal, open padded pockets
1 external flap pocket
Returns Policy
Dime Bags® stands behind the quality of our products, and our company philosophy is all about you. We understand that sometimes, things just don't work out. You have 30 days from the purchase date listed on your receipt to return a product. Your returned/exchanged item should be in its original packaging with all hang tags and patches attached. All products must be in new and unused condition. We also request that you ensure the bag is clean and free of personal articles before mailing it in. Please use our Returns Center located on our footer to initiate your return. Please contact us at +1-888-520-8808 or email Hi@DimeBags.com if you have any questions. Once we've received the bag and processed the return, our billing department will issue a refund or store credit to reimburse you for the bag. Any shipping charges are excluded. Please note that based on the time elapsed since the purchase, the condition of the product, and/or missing items, our Returns department will determine whether to refund the full amount you paid for the bag or to charge a 10% restocking fee. Please mail your Dime Bag® to the below address. Dime Bags® Warranty Returns 10035 Federal Dr. Colorado Springs, CO 80908.
Shipping
Packages will ship within 24-48 hours excluding weekends. Once your order is placed you will receive a confirmation message and tracking once the item ships from our facility. International shipments may take up to two weeks for delivery based on your Country and shipper. All other packages will be delivered within 4-5 business days after they are shipped.
Customer Reviews
Write a Review
Ask a Question
08/15/2023
Patty

United States
Awesome
Love it! The little tray that comes with it is perfect and it fits in my purse. I actually probably should have gotten the 7" instead of the 5" but still love it
Hey Patty, Thank you for your feedback on our All-In-One! We are so happy to hear that the little tray is b you some joy. Sizing up is the way to go with these bags. Great color choice by the way!
03/06/2023
JulezE

United States
Best yet
Your best keeps getting better, DIMEBAGS! You never disappoint!! 5 stars!!!
02/16/2023
Angelina

United States
Very Nice material
I lovvveeee my dimebag, the only thing is that I cant fit my pipe and grinder in the 8'' but mine are bulky so I am going to buy new grinder that's smaller to fit. Other than that it is smell proof but if you smoke around it a lot it can kind of smell like smoke from taking in all the smoke in the material. The smell proof pocket is smell proof tho. If you really compact it you can fit about a zip in there.
02/08/2023
Tyler S.

United States
01/26/2023
Shanna T.

United States
Good for joints
This is perfect to store my pre rolls. Especially bc I live in a dorm where it's a "dry campus". Absolutely no smell comes out and it comes with a rolling tray. Love the pocket on the bag for a lighter. Overall rly good. Would absolutely recommend if u have a form and need to keep ur bud.
Hey Shanna, We're so glad the All-in-One is working for you!
Lil stash
Love all dimebag products perfect for my lil goodies and diabetic supplies:)
01/21/2023
Tyler S.

United States
01/15/2023
Amvt

United States
Just what I was looking for
Perfect size , for my pod and quick stash bug out pack. Can't and the smell proof is the best among any other brands. Finally a great quality bag.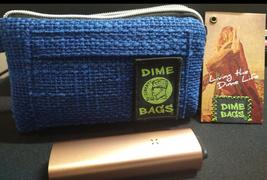 Hey Amvt, we're so glad you love your new All-In--One! They're perfect for a small little stash bag. You ut it perfectly, "a quick stash bug out pack."
Perfect travel pouches!
I have 5" and a 7" All-In-One Padded Pouches, both in the Earth color. I use the 5" for my bowl setup and the 7" for my joint setup. They are just absolutely perfect for those setups, especially if you're taking them when you're on the go. I highly recommend these!
12/18/2022
Estrella

United States
My momma don't smell sh*t
I got the 7 inch in the color purple and it's so cute and fits in my bag perfectly . My old bag would stink up the room and this bag just covers it up. My mom don't even complain about the smell no more.
Hey Estrella, good to hear! The All-In-One is perfect for staying discreet!!
11/30/2022
Angelina

United States
Awesome
I love the color selection that was available and is definitely smell proof. I got the 8 Inch and the rolling tray included is a perfect addition with the designated slot. I love it and will definitely be purchasing more items!
Heck yeah! Can't wait to see what you snag next!
Wonderful travel bud!
Shipping was exceptionally prompt, and packaging was simple and efficient. The bag itself is very well made. The sticking is nice, the materials both out and especially in are nice. I got one for myself and can fit my arizer solo in it and goodies for on the go. The extra "come back with a warrent" patch was a great hilarious touch. I got some for friends and know they'll love it! I'd love to try their larger bag for longer outings/trips
Rebecca, we are so glad you like your new All-in-One! We love giving extra goodies with orders. Can't wait to see what bag you snag next!
11/11/2022
Love l.

United States
Purdy lil thanggg
I have always loved dime bags, but never had the color I wanted! So happy now! too ****** too take a pic right now, maybe later.
Hey there! We're so glad you love your new bag as much as we do! Can't wait to see a picture.
10/30/2022
Justin

United States
Stylish and functional
I ordered the aqua 7" bag for a pipe, and wound up with enough room in the hidden zipper compartment to fit my mini grinder. I'm really impressed with the styling and design of the bag- For sure recommending to friends and family. DimeBags have been on my radar for awhile now- really glad I finally pulled the trigger. The speedy shipping and free patches were a classy bonus.. Can't wait to snag my next Dime Bag!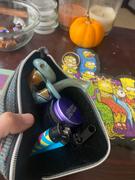 Justin, we're so glad the All-in-One is working out for you! We can't wait to see what you snag next!....btw...That dab mat is INSANE!
10/19/2022
Beth

United States
Great Pouch
Excellent service fast delivery. I ordered the 5" pouch in purple. Third one of these gems. Great Christmas gift. Perfect pouch to carry your glass piece with some nice smoke. And your Toker Poker lighter on the outside. Awesome pouch I highly recommend.
Hey Beth, the All-in-One is perfect for protecting your glass! We're so glad you love it so much.
10/17/2022
Chris

United States
Perfect Gift!
I have a larger dime bag and love it, so I bought a small one as a gift to a fellow smoker. Great product, well built and useful!
Hey Chris, that's so cool! Dime Bags make perfect gifts.