Introducing our newest baddie in our Omerta family- the Mini Molly mini backpack! Before the Mini Molly came in to existence people had to make a tough choice. Do I want to have a smell proof bag or do I want to look cute? Well fear not Dime Bags fam, the Mini Molly solves that issue by saying "Why not both?" This bag is easy on the eyes and even easier on the nose- perfect for festivals and other events.
Weight
.65 lbs
Dimensions
11 x 12 x 2 

(inches) 
Features

Single black smell and water proof zipper

Front zippered pocket
Internal zippered pocket
Internal mesh pocket
Internal zippered hidden pocket

Customer Reviews
Write a Review
Ask a Question
11/02/2020
Nicole .
United States
Perfect
Love the smell proof line! Great bag perfect size!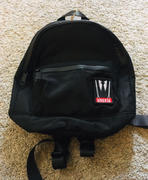 Hey Nicole, Thank you so much for showing love to our Mini Molly! We think it's awesome to hear that it was the PERFECT fit for you! We are stoked to hear about how much you love our Omerta line! Check your email for a little surprise from the team.
10/26/2020
Rayven S.
United States
Cool Bag
I love this Omerta Mini Molly bag. I started using it immediately. It's one of my favorites, Thank you so much.
Hey Rayven, Thanks so much for showing LOVE to our Mini Molly! We are super excited to hear that it's now one of your favorites! It's one of ours too. Peep your email for a little treat from the team.
10/17/2020
Katelyn K.
United States
Amazing purchase
At first I couldn't even find the hidden pocket, which is perfect! The smell proofing is amazing; it completely eliminates any smell.
Hey Katelyn, Thanks so much for your feedback on our AMAZING Mini Molly! We are happy to hear you've found the secret pocket and it eliminates any unwanted smells inside. Peep your email for a little treat from the team!
10/15/2020
Crystal Y.
United States
I love it, but...
Its small, but surprisingly roomy. The only reason why I rated it 4 stars instead of 5 is because there is no white zipper trim, or red stitch design on the front. But other than that, it fits so many of my things. I have two twisted hemp packs, a golden bell grinder, 10 grams of flower, a Smokebuddy, a container of toothpicks, a container of q-tips, a coinpurse with two flower bowls and a dab nail, a small dab mat, a pack of 50 alcohol pads, a mini rig in the interior mesh compartment, and about 10 grams of wax in the secret compartment, and in the front pouch are: Hemper notes rolling paper, a mint box of joint filters, a clipper, and a blunt splitter. And yes, you can stick pins in them. I asked ;)
Hey Crystal, Thank you for showing so much love to our Mini Molly! WOW! Look at the capacity on this little guy! We are super excited to hear that our Mini Molly is able to hold many of your necessities and then some! Our Mini Molly has been redesigned to have a blacked out carbon lined zipper and has had the red stitching removed all for your discretion! (Peep disclaimer in description) In addition, we advise to only stick pins in the outer compartments to reserve the carbon lining in the main compartment to keep it 100% smell-proof! Take a quick look at your email for a little treat from our team!
10/11/2020
Nikki z.
United States
Amazing!
Amazing packaging came with some free patches and stickers the bag is so sleek and simple it's the opposite of sus holds everything you need perfectly and stops the smell very well it's a must have.
Hey Nikki, Thank you for your AMAZING feedback on our Omerta Mini Molly! We are SUPER stoked to hear that this little guy is keeping all of your goodies on the hush hush and that our extra swag made your day! Check your inbox for a little extra something on us!