Defend your glass with 360 protection from drops and bumps while on-the-go. The Soldier is filled with layers of customizable pick and pull foam so your piece fits snugly in the layers of protection. Travel with confidence knowing your Soldier is 100% smell proof thanks to our Omerta carbon filtration. The TSA-approved lock keeps sticky fingers out so you can rest assured your most valuable pieces are fully protected. The Soldier is your personal bodyguard ready to defend your glass and won't let anything get in its way.
Comes in 2 sizes: 6 inch and 10 inch.
Please note, we do not sell any TSA approved keys with this bag.
Weight

6inch - 0.8lbs
10inch - 1.3 lbs

Dimensions

6 x 4.75 x 3in
10 x 6.5 x 5.5in

Other features

Carbon Filtered Technology
Pick and Pull Customizable Foam
TSA-Approved Locking Zipper
Rigid Exterior
Interchangeable Velcro Label
Combination lock only

TSA KEYS

 

NOT

 

PROVIDED
Customer Reviews
Write a Review
Ask a Question
12/02/2020
go
United States
Must Have
This is extremely well-built and a must have to protect expensive glass on the go! Chic and discreet too. Will be ordering more once in stock!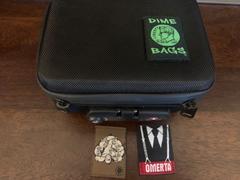 Hey Gerret, Thank you so much for showing some love to our MUST HAVE Soldier! We are so thrilled to hear that it gives you the discretion you need! Peep your email for a little treat from the team.
11/16/2020
Ron S.
United States
Great case
Absolutely love it. It's like American express I don't leave home without it
Hey Ron, Thank you for your review on our awesome Omerta Soldier! We LOVE to hear that our Soldier is your new go to and keeps all your goodies safe and sound! Check your inbox for a sweet surprise from us!
highly recommend
I bought the 10 " soldier and I'm very happy with the purchase. Perfect for keeping your glass pieces stashed away or traveling
Hey Jay, Thanks so much for your feedback on our super protective 10 inch Soldier! We are so happy to hear that our fantastic pick foam interior gives your glass a safe and protected home! ✌
Amazing bag, hopefully it's a defect?
Bought the bag and I love it. I got the 10" version. However after about a week of moderate use the side has become detached to the actual bag. Bag is still functional but because of detachment on side someone can easily get into my bag which defeats the purpose of the whole reason why I got the bag in the first place... Like I said I love the bag, but im hoping that mine was just a defect and not an actual issue with this type of bag. Went back to where I had bought the bag from and they had referred me to your site to get into contact with you guys. Please reach out to me so we can further discuss issue with bag and So i can provide pictures.. thanks guys you all seem to have excellent products .. potentially getting the locking backpack or duffel bag. Thanks again for your time I really appreciate everything. Respectfully, Jd Pitts
Hey JD, Thanks so much for your feedback! We're SUPER stoked you love our Soldier! Oh, no! We are SO sorry to hear about what's happened with your Soldier. JD, please check your email for a message from out team!
Perfect fit
Got this for my prize grav glass pc and I'm loving it. I have now had an opportunity to take my grav pipe out of my house and out on the town. I have zero fear of breakage, and it totally keeps it smell/stink free. Thank you guys so much for making great products! The only reason I gave 4 stars is the zipper is a little sticky but it seems to be loosing up.