Let's be honest, you'll be hard-pressed to come by someone who doesn't love a good hotbox. Where stylish meets simple and hip meets multi-functional, we're really stepping up the game with our newest backpack model, the Hotbox.  Whether you're hitting the park or the beach, we're certain this 'lil pack is the perfect companion for all of your day-to-day needs, no matter how adventurous or mundane those may be. At long last, a hotbox even your grandma will love; Come on, give it a try!
Dimensions

Weight

12 x 9 x 4in

.85 lbs

Colors

Hempster: Black, Pink, Red, Sky, Yellow

Water-Resistant Nylon: Plum

Other features

Durable Hempster Exterior/Water-Resistant Nylon
7 Total Compartments
Secret Pocket
Heavy-Duty Zippers
Customer Reviews
Write a Review
Ask a Question
11/21/2020
Ariel C.
United States
Yellow Hotbox
Seriously couldn't ask for a better bag! So easy to get to whatever you need all in one place. Makes everyday easier being able to carry all my things in such a small bag.. Get compliments constantly on the vibrant yellow, highly recommend for anyone who needs a convenient bag or purse. The hidden smell proof bag is an extra bonus. Love changing my patches constantly! Can't wait to add extra padded pouches and patches to my bag to customize it even more so many options! High quality and thought out into everything DimeBags makes.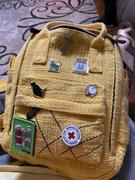 Hey Ariel, Thank you for showing our Hot Box so much love! We are so stoked to hear how much you love it! Your Sirron Norris Frisco Patch makes an awesome pair with it! Peep your email for a little treat from the team to help you scoop up an awesome Padded Pouch!
11/14/2020
Krizia
United States
Purple Hot Box
I love my Purple Hotbox!! It's the perfect size for me. I like the handles and I like that the side pocket fits my phone. I bought extra patches and love changing them around. Thinking about buying another in a different color. Love dimebags!
Hey Krizia, Thank you so much for showing so much love to our super efficient Hot Box! We are so stoked to hear that you love it as much as we do! Great choice in color BTWA! Check your email for a little treat from the team.
11/09/2020
Claire
United States
Might Have To Order Another One!!!!
Absolutely AMAZING. This bag is SO ******* adorable and just top notch material and fabric. The Hempster material is so soft to the touch and you can feel that the inside and outside is durable. I contacted their customer support with just a question and they got back to me SO FAST and were just amazing. The secret pocket is SECRET for SURE. I even got stickers and other goodies! If you're thinking about it, just do it. It is so worth it. Not just the bag but the experience. I am beyond happy. I might have to get all the other colors hahah!
Hey Claire, Thank you so much for showing showing much LOVE! We are so stoked to hear that our team has made your experience super enjoyable and memorable! Great choice in the color Yellow btw! Check your email for a little surprise from the team.
11/03/2020
Suzanne M.
United States
Newest shipment
AMAZING COMPANY.... Very awesome high quality products and the customer service is absolutely fantastic!! This is my third pack,third wallet and a padded pouch... My husband and sister love their wallets I ordered and my wristlet is pretty cool.. My husband says the best wallet he's owned. Love my slinger as does my sister love her slinger and the mini hot box backpack is really cool.. Thank you dime bags you guys are pretty awesome.. I love all the added stickers too!! Thank you Caesar and Ruby awesome service from both.. I will be ordering more!
Hey Suzanne, Thank YOU for for showing so much LOVE! We are so happy to hear that you and your family all have and love your Dime Bags! We are super excited to hear that our team was able to give you AWESOME service. Check your email for a little surprise!
11/03/2020
Bradyn r.
United States
Amazing product and excellent customer service
The bag itself is amazing l, its everything my girlfriend needed! When we bought it there were some issues with shipping and things were looking like we were just not going to get the bag and we were just outta luck. We emailed dime bags and they were extremely helpful and we got our bag in 3 days after their first response. Very good customer service and the product rocks!
Hey Bradyn, Thank you so much for your feedback on our Hot Box! We are so excited to see that it's to your liking! We are so stoked to hear that our team was able to help you out and get your Dime Bag to you! Check your email for a little surprise from the team.