Let's face it: the last thing you want to do is drop or spill something on your laptop. You also probably don't want to lug around a small suitcase just to keep it safe. Meet our laptop bag, The Side Hustler. The perfect companion whether you are a gamer or an aspiring author, the Side Hustler has a sleek, utilitarian design and promises to keep your laptop safe regardless.
With two convenient carrying styles, wear it as a crossbody or grab it by the handles. Either way you are protected from whatever the world may toss at you (or your laptop).
Weight
15" Side Hustler: 1.2 lb
17" Side Hustler: 1.45 lb
Dimensions
15" Side Hustler: 13" x 10" x 2"
17" Side Hustler: 16" x 12" x 2"
Colors
15" Side Hustler: Aqua, Black, Earth, Forest, and water-resistant Stone
17" Side Hustler: Black, Glass, Sand, Static Black, and water-resistant Plum
10 Compartments

2 external zippered pockets
1 padded, main body zippered compartment
1 internal, padded laptop sleeve
1 internal zippered pocket
4 internal open pockets
1 secret, internal zippered pocket

Features

Durable Hempster or water-resistant polyester exterior
Heavy-duty zippers and hardware
Adjustable, detachable shoulder strap
Crossbody or handle carrying options
Padded laptop sleeve
Smell-proof, clear poly bag
interchangeable velcro label
Customer Reviews
Write a Review
Ask a Question
03/22/2022
Mike M.

United States
5 stars
Laptop, charger, tablet, phone, etc, etc. It all fits! Finally a computer bag with some thought behind the design. This is one of my favorites in my collection. There's a spot for everything.
Hey Mike, So glad the bag works for you! The Side Hustler is great for holding all sorts of electronics!
03/15/2022
Jordan O.

United States
Great bag
I love this bag. It's a nice snug fit for my computer. Nice padding for protection. I am very happy with this bag, and all the others I have purchased over the years. Thanks Dime Bags!
Hey Jordan, The Side Hustlers are so awesome! They're perfect for keeping your laptop safe and secure!
03/14/2022
Toni

United States
Love either way
I absolutely LOVE this bag. The ONLY thing I'm unhappy about it my laptop is extremely snug in it. To be fair I've only placed it in twice so I'm hoping once I start using it on a regular basis it will relax and not be so snug. if it doesn't, oh well, it will be perfect for whatever I use it for.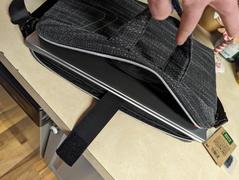 Hey Toni, we're so happy you love your Side Hustler so much! Over time it will stretch a little so your laptop wont be so snug.