Roll at home or on the go. This tray is the perfect addition to your Dime Bags collection.
Ready to roll? Large rolling tray dimensions – 10″ x 2.8″
Customer Reviews
09/29/2020
Holly W.
United States
Love it!!!
The shape is convenient for when rolling on your lap. The material its made from is also really nice. Its not a metal tray but I do enjoy that it weighs less. For the price, I'd say its a good deal. You can't even get a knock off tray at a smoke shop for 10. Gotta get one!!! You wont regret it.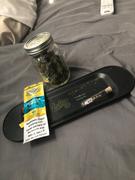 Hey Holly, Thank you so much for showing love to our super affordable Rollies Tray! We are super happy to hear how convenient it is because of how light and easy to use it is! Peep your email for a little something from our team!
10" Dime Bag
I just purchased this bag in Colorado at The Green Solutions in Fort Collins, CO. Your website shows it comes with a "hidden" rolling tray. Well mine must be hid in the bag so good I can't find it! Can anybody tell me where it's hidden? Lol! Other than that...love the bag!
Hey Deby, Thank you for your review on our Rollies tray! Hmmm that cant be right, our Padded Pouch would not have come with a rolling tray however our All-In-One sure would! Check your inbox for a message from our team so we can help out!