If you are extra and you know it clap your hands (cue full-on applause). We took our viral mini backpack, The Hot Box, and then blew it up. Complete with all of the pockets you've come to expect plus a dedicated laptop compartment, you'll be ready for the 'gram in no time flat.
Just like its smaller counterpart, your grandma will love this Hot Box too. Maybe even a little more than the original (not like she would say it aloud though. Can't compare apples and oranges, right?)
Dimensions
16" x 12" x 4"
Weight
1.35 lb
Colors
Aqua, Black, Pink, Yellow, and water-resistant Cobalt
10 Compartments

1 main body zippered compartment
1 front zippered pocket
15" internal padded laptop compartment
2 external expandable pockets
2 internal zippered pockets
2 internal open pockets
1 secret, internal zippered pocket

Features

Durable Hempster or water-resistant polyester exterior
Heavy-duty zippers
Padded laptop sleeve
Adjustable backpack straps
Convenient top handles
Reinforced bottom
Smell-proof, clear poly bag
Interchangeable velcro label
Returns Policy
Dime Bags® stands behind the quality of our products, and our company philosophy is all about you. We understand that sometimes, things just don't work out. You have 30 days from the purchase date listed on your receipt to return a product. Your returned/exchanged item should be in its original packaging with all hang tags and patches attached. All products must be in new and unused condition. We also request that you ensure the bag is clean and free of personal articles before mailing it in. Please use our Returns Center located on our footer to initiate your return. Please contact us at +1-888-520-8808 or email Hi@DimeBags.com if you have any questions. Once we've received the bag and processed the return, our billing department will issue a refund or store credit to reimburse you for the bag. Any shipping charges are excluded. Please note that based on the time elapsed since the purchase, the condition of the product, and/or missing items, our Returns department will determine whether to refund the full amount you paid for the bag or to charge a 10% restocking fee. Please mail your Dime Bag® to the below address. Dime Bags® Warranty Returns 10035 Federal Dr. Colorado Springs, CO 80908.
Shipping
Packages will ship within 24-48 hours excluding weekends. Once your order is placed you will receive a confirmation message and tracking once the item ships from our facility. International shipments may take up to two weeks for delivery based on your Country and shipper. All other packages will be delivered within 4-5 business days after they are shipped.
Customer Reviews
Write a Review
Ask a Question
09/06/2023
New f.

United States
Just hotness
That's why it's called hotbox !! I love this bag ,it's my favorite dime piece so far .... love my hotbox
And the Hot Box Extra loves you back!
09/06/2023
New f.

United States
Padded protection
I absolutely love by bag ,it's perfect ! Holds all my accessories as well , can't beat this for protection
01/23/2023
Heather D.

United States
Love it!!!!!!!
Best investment I ever made. The quality is superb. Love the pockets but my only negative on the pockets is they should have more different sizes and ways to divide the pockets. That way everything has their own pocket/home. Would highly recommend to anyone. Thinking of buying this for my sister.
Heather, The Hot Box Extra is such a great bag! We are so glad you love it as much as we do! Dime Bags make great gifts!
Amazing!
I have been a huge fan of Dime Bags for 10 years. The quality and durability is unmatched. I like this backpack for my guy!
Hey Rebecca, The Hot Box Extra is such an awesome bag! We're so glad you love it as much as we do!
12/21/2022
Lloyd

United States
Great look and quality, just needs a bigger laptop pocket
Love the bag...great quality...just wish the laptop pocket was a tiny bit bigger...says it fits a 15" laptop but it doesnt..It will fit in the bag if i dont put it inside the pocket made for it...but everything else is great, like I said the feel, look, and quality of material are top notch...
Hey Lloyd, So glad you dig the bag as much as we do! The Hot Box Extra is such an awesome bag.
10/27/2022
Keith

United States
I bought one of these in yellow for my girlfriend and it immediately became her favorite bag. The fact that you guys sent us extra patches just for the simple fact that you're the s*** is amazing. I will definitely be obtaining more storage devices from you in the future.
Keith, that is so awesome! We're so glad you love the new bag! Can't wait to see what you pick up next!
09/10/2022
Kiwi

United States
08/22/2022
Adrian R.

United States
Girlfriend.
Got the yellow one for my girlfriend. It's her favorite color. Did not disappoint. Same takes it everywhere. All her daily stuff fits perfectly. Back pack or handbag, be either way easy to carry and i don't mind holding.
Hey Adrian, thanks so much! The Hot Box Extra is such a great bag. We're so glad you love it as much as we do!
07/28/2022
Isa

United States
07/18/2022
Karen S.

United States
Yellow bag
LOVE IT it's so cute! It fits everything I need. Lots of compartments so things are floating around. I recommend it for everyone
Hey Karen, The HBE is such a great backpack. You can fit so much inside!
07/07/2022
christian

United States
Great bag :)
So far I've had my bag for about two or three weeks and i love it, it's the perfect size to carry my things to work or just around town. The quality is great and all the pockets are pretty handy, plus i got the cute frog sticker and some patches. It also came in pretty fast :)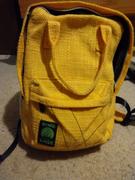 Hey Christian, The Hot Box is super awesome! The yellow is one of my favorite colors!
06/29/2022
Purple C.

United States
06/03/2022
Casaundra

United States
Best bag ever
This is my go to bag! Big enough for everything i need and enough pockets to keep me organized while still being cute and fun! This bag certainly exceeds my expectations
06/03/2022
Casaundra

United States
06/03/2022
Mackenzie B.

United States
New addition to my Dime Bag collection
I had the original hot box for a super long time and was a great bag but lacked the space I needed for work. I love this extra space it gives me. Im a very happy returning customer
Hey Mackenzie, We're so happy you're happy! :) The Hot Box is such an awesome bag. I love all the extra pins you added!