Ellie Paisley Heart Hat Pin
Falling in love has never been easier. The melting heart rainbow pin by Ellie Paisley is the perfect gift for yourself or someone you love. With two pins securing the rainbow heart pin, you'll be sure to get showered with compliments when friends see your rocking new pin on your favorite Dime Bag.
Shop the entire Ellie Paisley Collection.
| | |
| --- | --- |
| Dimensions | 2" x 2" |
| Weight | 0.88 oz |
| Finish | Charcoal Glossy |
Returns Policy
Dime Bags® stands behind the quality of our products, and our company philosophy is all about you. We understand that sometimes, things just don't work out. You have 30 days from the purchase date listed on your receipt to return a product. Your returned/exchanged item should be in its original packaging with all hang tags and patches attached. All products must be in new and unused condition. We also request that you ensure the bag is clean and free of personal articles before mailing it in. Please use our Returns Center located on our footer to initiate your return. Please contact us at +1-888-520-8808 or email Hi@DimeBags.com if you have any questions. Once we've received the bag and processed the return, our billing department will issue a refund or store credit to reimburse you for the bag. Any shipping charges are excluded. Please note that based on the time elapsed since the purchase, the condition of the product, and/or missing items, our Returns department will determine whether to refund the full amount you paid for the bag or to charge a 10% restocking fee. Please mail your Dime Bag® to the below address. Dime Bags® Warranty Returns 10035 Federal Dr. Colorado Springs, CO 80908.
Shipping
Packages will ship within 24-48 hours excluding weekends. Once your order is placed you will receive a confirmation message and tracking once the item ships from our facility. International shipments may take up to two weeks for delivery based on your Country and shipper. All other packages will be delivered within 4-5 business days after they are shipped.
Customer Reviews
Write a Review
Ask a Question
05/19/2021
Cara M.

United States
Ellie Paisley Pin
Good! Love the item!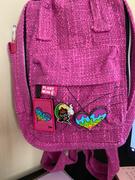 Hey Cara, Thank you so much for your feedback on the super GOOD Ellie Paisley Heart Pin! We are so excited to hear that you LOVE IT just as much as we do! It looks AWESOME on your Hot Box BTW.
04/02/2021
Mari

United States
Love it
Love the size love the colors . Can't wait to see what other collaborations will happen!!!!!! Hopefully there will be more pins to collect like patches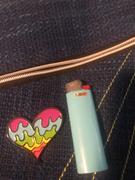 Hey Mari, Thank you so much for your feedback on the Ellie Paisley Heart Pin! We are so stoked to see how much you LOVE IT! The vibrant colors on this little guy will catch anyone's eyes! Peep your email for a little something from the team.
04/02/2021
Mari

United States
Love it
Pin is super cute on my City Dweller . Love ❤️ the colors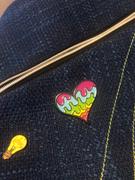 Hey Mari, Thank you for your awesome feedback on our Ellie Paisley Heart Pin! This looks stellar with your Midnight City Dweller, great choice BTW! Peep your inbox for a sweet surprise on us to help add more pins to your collection!