Compact and light, this mini hemp backpack is the perfect grab and go bag. Don't be fooled by its size, the Club Kid has plenty of storage. The exterior pocket is padded and perfect for holding your credit cards and ID. The large body pocket keeps the goods organized so you don't spend hours endlessly digging in your mini hemp backpack looking for chapstick.
Weight
0.75 lbs
Dimensions
9 x 3 x 8in
Colors

Black, Brown, Concrete, Glass, Magenta, Timber

Other features

Durable Hempster Exterior
Adjustable Shoulder Straps
Internal Organizers
Small Front Pocket
Reinforced Bottom
Secret Pocket
Smell/Spill Proof Clear Poly Bag
Interchangeable Velcro Label
Customer Reviews
Write a Review
Ask a Question
11/03/2020
Gary H.
United States
Excellent quality
Another cool addition to our DB collection. Dime bags are just too kewl. Little surprises around every corner. Such a good company and a most excellent quality product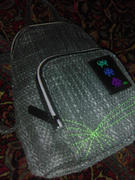 Hey Gary, Thank you so much for your feedback on our super COOL Club kid! We are so excited to hear to hear that it's now a part of your collection! Dope choice in color btw! Peep your email for a little surprise form the team.
10/17/2020
Matty S.
United States
Perfect size
Love it quality is awesome ☺️ Perfect size holds everything I need for my sesh really is smell proof love the color and design will definitely buy more bags soon!
Hey Matty, Thanks so much for your feedback on our super durable Club Kid! We are excited to hear that it can hold all of your belongings and captures any odors inside. Awesome choice in color BTW! Peep your email for a little treat from the team.
Cute bag
This bag is very cute and has plenty space for my things , I like it cause it's small and can jut grab and go also front pocket organizes my cc cards and license the problem is I wAnt to many of the bags I ado have a smell proof pouch with tray another great little pouch fits inside the backpack too thanks again pd customer service is A+ also thanks Selena for you help
Duuuuuuude!
I've taken it to festivals and small raves and it's super lightweight. I love how small and simple it is. I ordered this back in February and it's May now. I just found the secret pocket and my mind is blown! I definitely recommend. I maybe wish it was a little bigger. But Dimebags came out with a bigger size. Might buy it. Definitely recommend.
This thing lasted me nearly 8 years.
Bought one of these years ago. Became my daily carry for as the title states almost 7 years before I accidentally broke the zipper slamming it in a car door. Maybe could have fixed it buy Im just gonna buy another and support the company.