The Collector with Lock | Omerta Smell Proof | Stash Bag | Combo Lock
In stock
You're a boss and you deserve a boss-ass bag. Complete with carbon-filter technology, this smell-proof stash bag takes our classic Collector and then tops it off with a TSA-approved lock. It's a one-stop-shop for businessmen on the move. You can keep your essentials locked and right by your side at all times.
Dimensions
9" Collector with Lock: 9" x 6" x 2"
12" Collector with Lock: 11.5" x 9" x 2"
Weight
9" Collector with Lock: 5.6 oz
12" Collector with Lock: 7.2 oz
Colors
Black, Camo, Green
5 Compartments

1 main, locking zippered compartment
1 internal zippered pocket
2 internal open pockets
1 secret, internal zippered pocket

Features

Fully smell-proof, carbon-filter technology
Water-resistant polyester exterior
Lightly padded, 100% cotton interior
Smell-proof, water-resistant zippers
Child-proof, lockable main zipper
3-digit, TSA-approved combination lock
Discreet colors
Interchangeable velcro label
Combination lock only
TSA keys not provided
Returns Policy
Dime Bags® stands behind the quality of our products, and our company philosophy is all about you. We understand that sometimes, things just don't work out. You have 30 days from the purchase date listed on your receipt to return a product. Your returned/exchanged item should be in its original packaging with all hang tags and patches attached. All products must be in new and unused condition. We also request that you ensure the bag is clean and free of personal articles before mailing it in. Please use our Returns Center located on our footer to initiate your return. Please contact us at +1-888-520-8808 or email Hi@DimeBags.com if you have any questions. Once we've received the bag and processed the return, our billing department will issue a refund or store credit to reimburse you for the bag. Any shipping charges are excluded. Please note that based on the time elapsed since the purchase, the condition of the product, and/or missing items, our Returns department will determine whether to refund the full amount you paid for the bag or to charge a 10% restocking fee. Please mail your Dime Bag® to the below address. Dime Bags® Warranty Returns 10035 Federal Dr. Colorado Springs, CO 80908.
Shipping
Packages will ship within 24-48 hours excluding weekends. Once your order is placed you will receive a confirmation message and tracking once the item ships from our facility. International shipments may take up to two weeks for delivery based on your Country and shipper. All other packages will be delivered within 4-5 business days after they are shipped.
Customer Reviews
Write a Review
Ask a Question
08/02/2022
Dwayne M.

United States
Great pouch for easy traveling
My brother is about to start college. I already have two different Dime Bags so I told him to pick one out to store his personal items in. He picked out the collector. Iordered me one as well since my other two are a good bit bigger. I love it. it is perfect for daily travels.
07/27/2022
Alex D.

United States
Reakproof perfect for gross bowls
This bag it wonderful its bigger on the inside. I have been using this bag for a few months now and it's exactly what I need it for. This holds my 4 sometimes quite dirty bowls keeping them separate from one another, hidden in a shroud of carbon. It holds more then enough and some while keeping its contents hidden and secured. Practically kid proof. Great product.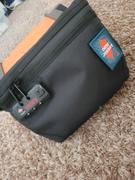 Hey Alex, The Collector is perfect for stashing your glass! We're so glad you like it!
03/30/2022
Stiffy L.

United States
It's got everything!
I love it! The fact that it's smell proof is awesome if you're in need of that convenience, but unlike the other smell proof products , it has the combination lock to keep out who ever, but the best part is The Collector, unlike The Capo, is more organized bc it's got inside zipper and non zipper pockets, even better it's 2" wide instead of 1"! So depending on what you are carrying that makes a huge difference, the other difference I found to be a plus is thus one has no Velcro, which for my needs is a plus!!! Love it!! Only thing I'd change : is new combination setting lock information, it's not accurate.