Personalize your bag with any of our interchangeable velcro labels! It's like a bumper sticker for your bag.
No Justice No Peace: You've been asking, and we're excited to finally premiere two BLM patches! At Dime Bags, we fully support the BLM movement by attending protests in our areas and crafting two patches that benefit the Black Lives Matter Support Fund. Every cent of sales from these patches goes to the fund. 
Don't worry! We've done our research and know that this organization supports the movement by fighting to end state-sanctioned violence, liberating Black people, and ending white supremacy forever. 
"No Justice, No Peace" has been not only chanted at our local rallies but around the nation. Speak up and speak out with this BLM-inspired patch.
Customer Reviews
Write a Review
Ask a Question
06/03/2021
Sonya Y.

United States
NO JUSTICE NO PEACE
Love the patch!!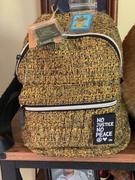 Hey Sonya, Thank you so much for your feedback on the No Justice No Peace Patch! We are so stoked to see that you LOVE IT just as much as we do! It looks GREAT on your Festy Bound BTW. Enjoy!
05/04/2021
Amber H.

United States
Love the yearly 4:20 sale
Big fan of this patch and goes great with my mini backpack.
Hey Amber, Thank you for your feedback on our No Justice No Peace Patch! We love this design and the message behind it, thank you for spreading the word!
01/19/2021
KM

United States
Had to have it!
I don't have to say anything about my position, this patch speaks for itself.
Hey Katie, Thank you do much for your feedback on our No Justice No Peace Patch! This little guy is for sure a MUST HAVE and it definitely speaks volumes! Check your inbox for a little treat from the team.