Let's be honest, you'll be hard-pressed to come by someone who doesn't love a good hotbox. Where stylish meets simple and hip meets multi-functional, we're really stepping up the game with our newest backpack model, the Hotbox.  Whether you're hitting the park or the beach, we're certain this 'lil pack is the perfect companion for all of your day-to-day needs, no matter how adventurous or mundane those may be. At long last, a hotbox even your grandma will love; Come on, give it a try!
Dimensions

Weight

12 x 9 x 4in

.85 lbs

Colors

Onyx

Other features

Special Edition - only 420 made!

Silk Lining with Sirron Norris art
7 Total Compartments
Secret Pocket
Heavy Duty Zippers
Customer Reviews
Write a Review
Ask a Question
11/20/2020
Anthony S.
United States
Really want to get it for my mom
So far I've gotten 5 different types of bags from you guys and I love all of them. I really want to get this Sirron Norris edition mini back pack for my mom. Unfortunately I can't order it until December 3rd because I'm in a wheelchair and live off of disability, is there anyway I could get the 25% sale on the 3rd, because I also have to get her the Sirron Norris SupDog patch and pin. Just so you know, all of the stickers I have received from you guys are on the back of my wheelchair.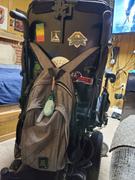 Hey Anthony, Thank you for showing SO MUCH LOVE! We are so excited to see your stickers displayed on your wheelchair. Check your email for a little treat from the team to help you out! In addition, a little bird told me that we'll be having an even better sale REALLY SOON!
10/16/2020
TIMOTHY B.
United States
Missing the Transit, but...
I Love everything I have purchased from Dime Bags! The quality and style are absolutely unbeatable! I use the Transit every day to carry my junk, Keys, Phone, wallet, and such, and would be lost without it! I'm thinking the mini backpack might be cool, but I am concerned about the larger size! Regardless, I will find the right bag at Dime Bags, as I always do! Keep Rocking!
Hey Timothy, Thanks so much for your UNBEATABLE love for Dime Bags! This would be a great size! It's a mini backpack so it isn't too bulky. We'd also suggest our Fanny Packs which we've released new styles in! Peep your email for a little treat from the team to help you scoop one up!
10/05/2020
damji
United States
Amazing
This would be my 4 th item from dime bags so far cant Express my self negatively about dime bags i am about to buy another back pack the slab bag to be exact , cant wait!!!:))
Hey Damji, WOW! 4?! Thanks so much for all the LOVE! Peep your email for a little something to help you cop that Slab Bag!
10/05/2020
Wizard
United States
Love the inside
Wish there were other colors than yellow or onyx tho. Have all the grassroots collaboration bags the inside is what makes the bags so dope! Same as tha Norris. That material, the satin underlay in grassroots hats and other heddy hats is fabulous, I just love that stuff. Prob buy every bag with it. (If the color outside is good)
Hey Wizard, Thanks so much for your FABULOUS feedback on our Sirron Norris Hot Box! Yellow would for sure be awesome! Peep your email for a little something from the team!
This bag is dope
I am in love with this bag. This is my 1st buying dime bags and I love yall already, cant wait to buy more. Thank you
Hey Rayven, Awesome! Thank you so much for your review of our dope Sirron Norris Hot Box! We are super stoked to have you as one of our Dime Bags insiders and peep your inbox for a special surprise!