The Voyage Messenger is a go-to for any lifestyle- from daily use to impromptu weekend getaways, our bag is loaded with features and are perfect for whatever adventure you find yourself in!
Weight
2 lbs
Dimensions
20 x 14 x 6in
Colors

Yellow

Other features

Durable Hempster Exterior
Special Print Silk Lining
Limited Edition - Only 420 made!
Adjustable Buckle Closure
Adjustable Strap

Smell/Spill Proof Clear Poly Bag
Padded Laptop Compartment

Interchangeable Velcro Label
11 Total Compartments
Customer Reviews
Write a Review
Ask a Question
02/19/2021
Jaylen

United States
Dope stuff
Yellow is my **** can you made a bag that only comes in yellow. Dogs are my ******* life. And sirron norris is a very inspiring artist. I think I need to say no more
Hey Jaylen, Thank you so much for your feedback on our Sirron Norris Voyage Messenger. We are so stoked to hear that it is VERY much to your liking! Check your email for a little treat from the team.
10/29/2020
iSope

United States
Nickel Bag
Had been eyeing this bag for months and finally pulled the trigger. To my dismay, I shot myself in the foot. I ordered this bag around 2 weeks ago and I have to say I'm not that impressed. I like the design concept and idea but the execution just wasn't there for me. I LOVE all my DimeBags but this one fell short in a few areas: The bag doesn't hold shape well. Mine came with an annoying crease that just won't flatten out. There's a PVC card sewn into the actual lining of the bag. Not sure what it's purpose is or what it does but none of my other bags have this card. Weird. The strap is too long. I'm 6"'4 and even at the shortest adjusted length, the bag hangs too low. A decent bag but I don't love it. It doesn't speak to me. It feels like a mid range 3rd party messenger with a beautiful coat of paint. Rating is "par" at best. I'll stick with the backpacks and slings.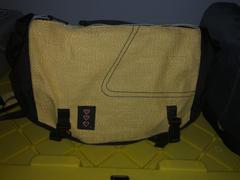 Hey iSope, Thank you so much for your feedback on our Sirron Norris Messenger! The card in there is actually in a secret pocket! Use the card to help you guide you to the it. In addition, we want you to completely satisfied with your purchase. Peep your email to see how we can help!
Great
Well be getting another one
Hey David, Thank you so much for your feedback on our great Sirron Norris Voyage Messenger! We love to see that you will be scooping up another one and check your email for an extra sweet deal on us!