We've teamed up with soulful band Satsang to blend eco-friendly style with their unique sound. With music rooted in the heart of Montana and a mindset of expressing oneself through spiritual journeys, fans of Dime Bags and Satsang can travel in style while being eco-conscience with a Satsang Backpack.
Includes an exclusive Satsang Band Patch!
Shop the entire Satsang Collection.
Dimensions
18" x 13" x 6"
Weight
2.0 lb
Colors
Black Hempster exterior and custom silk lining
9 Compartments

1 main zippered compartment
1 secondary, external zippered compartment
2 external, side-access zippered pockets
2 external, micro-mesh utility pockets
2 internal zippered pockets
1 secret, internal zippered pocket

Features

Special edition: only 420 ever made!
Durable Hempster exterior
Custom silk lining with Satsang art
Heavy-duty zippers
Adjustable, contoured shoulder straps
Adjustable side straps
Padded back
Smell-proof, clear poly bag
Interchangeable velcro label
Included Satsang velcro label
Customer Reviews
Write a Review
Ask a Question
11/30/2022
AL

United States
Ahh Yeahhh !!
Sweet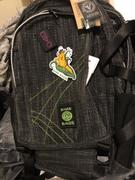 AL, IT'S CORN! Heck yeah. that Satsang back is so rad!
Ahh yeah :)
I wanted a backpack for so long and then I saw the special lining and the Black Friday sale … and it was on. I think the mailman knew what it was, cuz when I opened my door to get it, he was waving from the front door of the apartment building with a huge smile on his face =D
The Satsang Limited Edition is so cool! Your mail man definitely knew!
08/12/2022
Bryan

United States
First ever purchase from dimebags!
Was a little worried at first as I never bought anything from this company until it arrived! The bag is build very sturdy and comes with plenty of storage space. Plus the silk lining is soft to the touch and very durable. With the Satsang logo and name on the bag to give it a extra touch, I really counldnt be happier! Awesome product and well worth the money!
Hey Bryan, We're so happy you love your Hempter Backpack as much as we do! The Satsang collab is so sick!