All Omerta bags are smell-proof, but not all Omerta bags are this cute, compact, AND functional.  We've been busy growing this line for y'all.  You're welcome.  With one single strap, this bag can be worn cross-body and swung around from back to front with one swift motion.  Which is important if you're as busy and badass as we think you are.  
*We're currently making the Omerta line even better! Our current images do not reflect these changes, but if you have questions about a particular product, please reach out to hi@Dimebags.com.
Weight
 0.75 lbs
Dimensions
14 x 10 x 3.5 

(inches) 
Features

Main body zippered compartment
Front zippered pocket
Internal pocket
Internal mesh pocket
Internal zippered hidden pocket

Customer Reviews
Write a Review
Ask a Question
11/12/2020
Miguel
United States
Wonderful book bag
I take it with me everywhere I go from chilling with friends and carrying my lunch to work. Really keeps the smell hidden in the book bag for when I want to go out to "take a walk"
Hey Miguel, Thank you so much for your feedback on our WONDERFUL Don! We think it's awesome that it has accompanied you through your adventures! We are so stoked to hear that it can capture the odors inside! Check your email for a little surprise from the team.
10/23/2020
M. N.
United States
Love it
Wasn't sure about this bag at first because it was cross body and I wasn't too sure it was the right size. However it really was an amazing purchase! It has so many compartments and really expands in the middle so im able to carry a good sized piece. The special lining does a really good job and the only time I've had the zipper leak the smell is because I had my stuff in a plastic bag vs a container. Really well made and awesome material!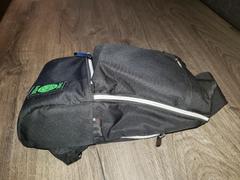 Hey M., Thank you so much for your feedback on our AMAZING Don! We are super excited to hear how satisfied you are with your purchase. It sounds like the perfect fit for you. Check your email for a little treat from the team.